Our goal is to educate, support, empower and advocate for breast cancer patients, professionals and the community. Whether you've been recently diagnosed, you're undergoing treatment or you want to know about breast health, our educational publications provide reliable up-to-date information for you and your family.
---
About the Adelphi NY Statewide
Breast Cancer Hotline and Support Program
You are not alone – here's how we can help.
---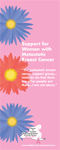 Support for Women with Metastatic Breast Cancer
"The metastatic breast cancer support group…
reminds me that there are other people out there…I am not alone."
---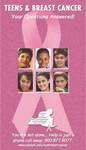 Teens and Breast Cancer:
Your Questions Answered
---
Sisters United in Health – English
Breast Cancer can happen to anyone. Education and early detection can save your life!
---
Sisters United in Health – En Espanol
El cáncer de mama le puede pasar a cualquiera. La educación y la detección temprana pueden salvarte la vida!
---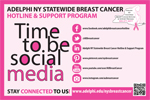 Stay Connected To Us!!!
---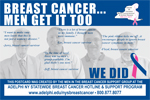 Breast Cancer…Men Get it Too
This postcard was created by the men in our breast cancer support group.
---
2014 Breast Cancer Support Groups
---
For further information, please contact:
Breast Cancer Hotline and Support Program
p – 516.877.4320
e – breastcancerhotline@adelphi.edu
Support Hotline: 800.877.8077