Meet Estelle B.
Hotline Volunteer Since 1996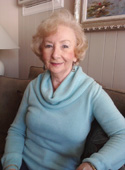 My introduction to the unique sisterhood of breast cancer survivors and my long affiliation with the Adelphi New York Statewide Breast Cancer Hotline & Support Program began on a cold night in 1994.
I can vividly remember the terror and fear that consumed me upon learning my diagnosis of cancer on December 22nd.  In working my way through the frantic thoughts running through my mind, I remembered having read a feature issue of Newsday devoted to breast cancer, the treatment options, and various organizations offering help in dealing with this life-threatening disease. Listed among the limited resources was Adelphi's hotline and I reached out. Thus began my healing process.
A comforting voice helped me think clearly.
I left a message and received a call back from one of the angel-volunteers even though it was Christmas vacation at the University. She tried to put my fears into prospective, reminding me that I had options, asking if I had a second opinion, and suggested there were a number of questions that I needed to ask of my doctors. At my request, she then read them into my answering machine so that I could copy them down and be better prepared for the consultations scheduled for the next day. I was grateful for the comforting voice on the other the other end of the line and was reassured that I was going to be able to handle whatever I needed to do. She also recommended that I call back whenever I had any doubts or further questions or just needed someone to talk to when I was feeling afraid. 
I spoke with some who survived what I was going through.
I did call back and was put in touch with a volunteer who had surgery similar to what I was facing. She, too, was a great source of comfort. Just knowing there were other women who were surviving gave me the courage I needed to get through the next month, as surgery was scheduled for January 24, 1995. I had decided on a tram-flap reconstruction since I was given no option other than a mastectomy. This was a relatively new procedure in 1995 and required a lengthy recuperation.
They really cared for me.
The volunteers also told me about the counseling and group therapy that was offered free of charge by the social work staff at the Adelphi hotline and I decided to participate. However, I was unable to drive after surgery and my lucky stars must have been watching out for me as Adelphi sent a cab to my home to pick me up for evening sessions and to return me home afterward. I was overwhelmed by the caring concern shown to me and fully believe it played a large part in my recovery. 
I decided to become a hotline volunteer.
After continued group and chemo therapy and when I felt well enough physically and emotionally, I was ready to give back to the wonderful organization that had been so instrumental in helping me retain my sanity and my sense of well-being. It was with a feeling of gratitude that I called and inquired whether I would be a candidate for the hotline. As the saying goes, the rest is history. I have been a hotline volunteer since about 1996 and feel that I have had the privilege of helping other women through the most trying times of their lives. We laughed together, cried together and learned from each other. It has given me a sense of accomplishment as well a certainty that we cannot become complacent about this disease. It is my hope that I have been able to give back the courage and strength that I received right from my first call to the hotline. I will forever be grateful for the program and the people that were there for me so many years ago, as the help I received was priceless. It is imperative that the hotline and all the other services it offers continue to be available to all who require them until a cure is found for breast cancer.