Yes, Men Can Get Breast Cancer
If you have breast cancer, you don't have to go through it alone.
There are other men who have had mastectomies, radiation, chemo therapy, hormone therapy and reconstruction. You can speak with them, ask questions, share stories…call our hotline at 800.877.8077 for more information.
Be Aware of the Symptoms
A lump or swelling, which is usually painless
Skin dimpling or puckering
Nipple pain
Nipple retraction (turning inward)
Redness or scaling of the nipple or breast ckin
Discharge from the nipple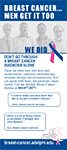 Important information on
breast cancer in men.
This card was created by the men
in our breast cancer support group.