In The News
June 2019
We are so proud of our amazing volunteer Myra Taylor who appeared in the Breast Cancer campaign #NoMatterMyAge.
This campaign highlights 3 age groups: under 40, 40-70, and over 70; and includes patient stories and advocate perspectives about age-bias in cancer care and treatment.
#NoMatterMyAge encourages patients, regardless of age, to get as much information as they can before making a treatment decision, including whether a genomic test may help patients and their physicians determine the best treatment plan.
You can watch the video at: https://youtu.be/FnvzJBeOBo4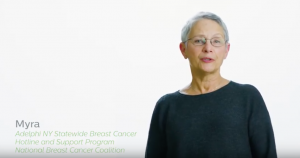 April 2019
Senator Kevin Thomas and Senator Todd Kaminsky held a press conference on April 26th at the Adelphi NY Statewide Breast Cancer Program. They announced the awarding of $383,000 from the LI Senate delegation to The Adelphi Breast Cancer Program.
You can watch the press conference by visiting: https://fios1news.com/news/adelphi-breast-cancer-program-garden-city/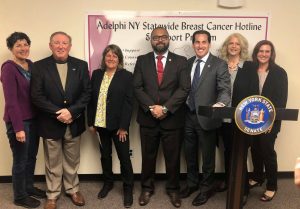 ---
On April 3rd the NASW NYS Chapter (National Association of Social Workers, NYS Chapter) presented The Adelphi Breast Cancer Program with the 2019 Agency of the Year Award!
Thank you to our former Social Work Intern Aimee Taylor for nominating our organization!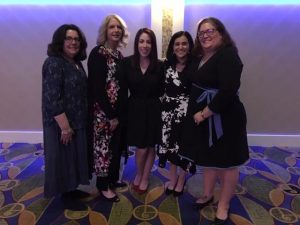 March 2019
CONGRATULATIONS to Angelica Medina, our bilingual outreach coordinator. She is one of 14 Town of North Hempstead residents named to the 2019 May W. Newburger Women's Honor Roll of the Town. She was commended for her work with our Sisters United In Health outreach initiative. Additionally Angelica was honored for her volunteer work as a board member of Westbury Arts, a non-profit organization that provides innovative arts programming that connects educates and inspires the community.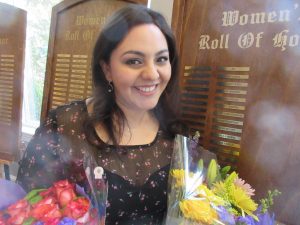 ---
---
On March 28th, Reyna Machado, Assistant Director for the Adelphi Breast Cancer Program and Desiree Abdelkader, MSW social work intern were interviewed live on the Nassau Community College Radio Station. They talked about our program and the services we provide to the community.
Listen to the interview here: https://www.spreaker.com/user/whpc/3-28myhowmetown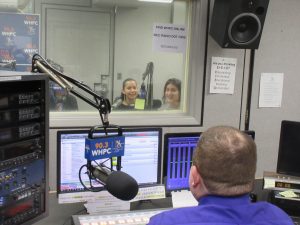 ---
On March 25th, Logan T. Crawford from News 12 Long Island interviewed Hillary Rutter, Director and Debbie Langendorff, Volunteer with the Adelphi Breast Cancer Program. They discussed the debate over breast implant safety.
Watch the video at: https://bit.ly/2QDLxKb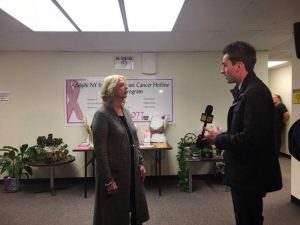 January 2019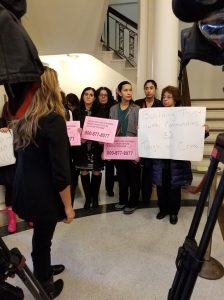 On January 24th, members of our staff joined the press conference on County Executive Laura Curran's decision to move ICE to Nassau University Medical Center. We stand up for the rights of our clients to receive life saving treatment and health care without fear of deportation.
October 2018
For breast cancer awareness month we host our annual Celebration of Survivorship. This years speakers include: Susan Leach, Jeff Flynn, Sonia Avery-Williams and Geralyn Lucas.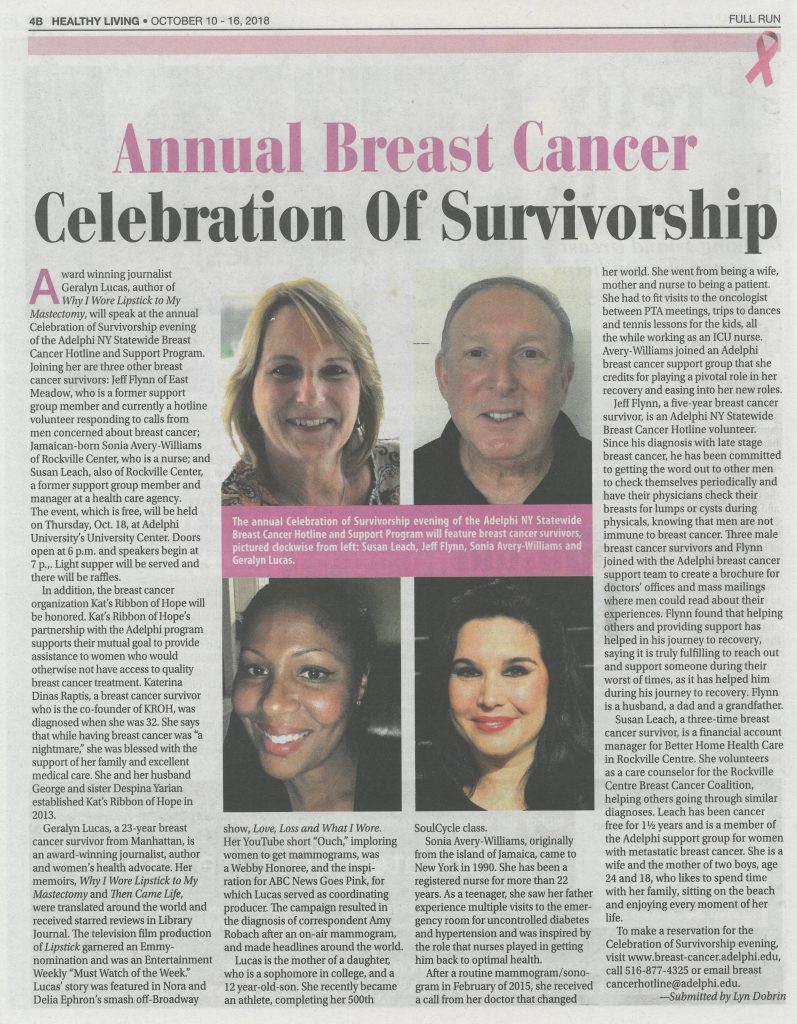 Published in Long Island Weekly, this article written by Erin Nau talks about The Challenge of Metastatic Breast Cancer.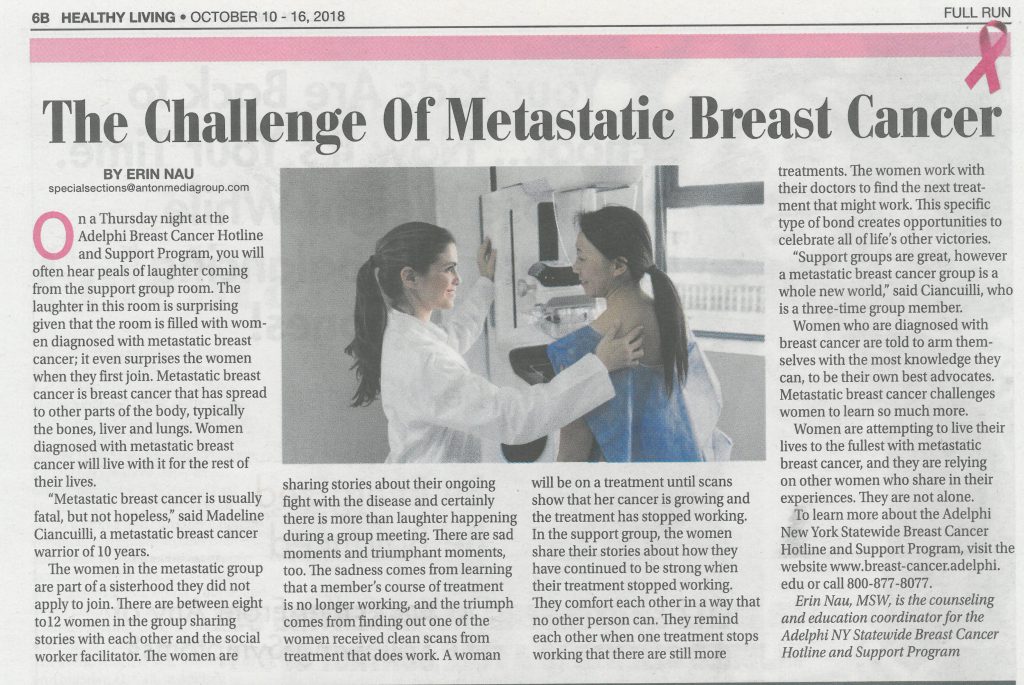 October 2017
For breast cancer awareness month some of our volunteers we were interviewed in an article called Advice from Breast Cancer Survivors . This article appeared in Newsday and the Anton papers.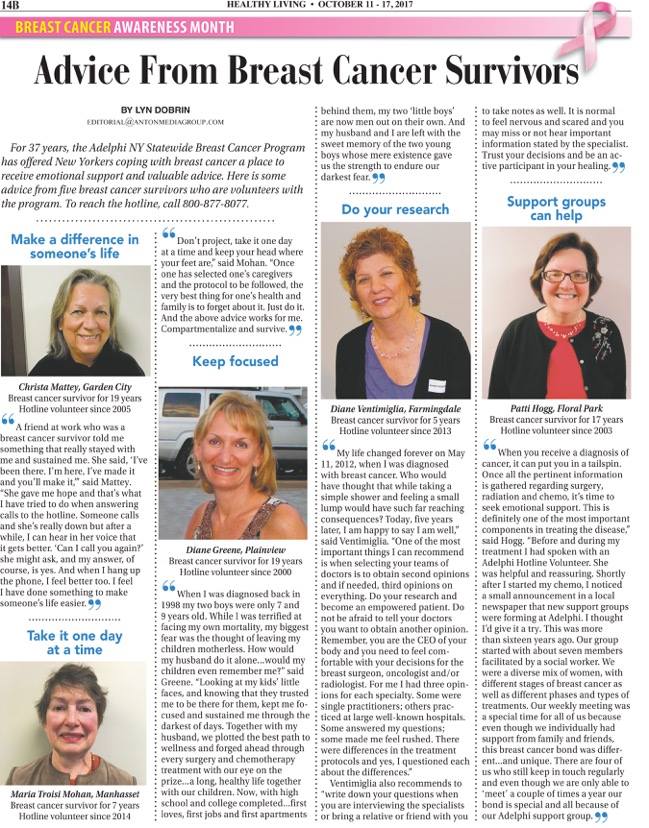 November 2016
Click here to watch the segment that aired on Verizon FiOS1 – Long Island regarding the 2016 Breast Cancer Summit sponsored by Long Island Plastic Surgical Group, PC on November 2nd. Anne Hogan our dedicated volunteer, spoke at the Summit.
Congratulations to Lois Goetz, Bilingual Social Worker for The Adelphi Breast Cancer Program. She was recognized November 1, 2016 in the Health Care Professional category for the Long Island Business News Achievements in Health Care Awards.
October 2016
The Levittown Tribune published an article called "Cancer Survivors Help Others Thrive". This article talks about our program and highlights some of our volunteers. Click here to read the full article.
Newsday published a survivor profile for our volunteer Antonella D'Alessio for Life's Victories. Click here to read the article.
September 2015
Health educators Angelica Medina, MA, and Naomi Cunningham, MA, help participants learn about the factors that can increase risk, best tools for early detection and available resources. Read the article "Bilingual Breast Cancer Workshop, Adelphi organization offering help in two languages," printed in the Anton Community Newspaper.
October 2014
Hillary Rutter was interviewed for
Fox 5's
"5 questions for…" column. She spoke about the program and its signature annual fundraiser called Creative Cups for which bras are artistically decorated and then auctioned.
Read the interview on myfoxny.com.
See our incredible volunteers Terrilyn Delnick and Rosalind Catena interviewed on
Verizon FiOS1.
The regular segment "Heroes On Our Island" is dedicated to finding the angels among us and profiles some of the positive people who call Long Island home.
Watch the video
.
July 2014
On Sunday, July 6, 2014, Hillary Rutter and Adelphi graphic design faculty Dale Flashner appeared on The Today Show with Pat Battle to talk about our Creative Cups Fundraiser. Watch the Today Show video.
Creative Cups Workshops To the Rescue. As seen in The Floral Park Weekend (July 9-15, 2014), Mermaid Art Studio in Long Beach is offering 2 hour workshops to help participants to design and realize their artistic vision. Read the full article.
June 2014
Article featured in The New York Times "Outsmarting Breast Cancer With Evolving Therapies." Read the full NYT article.
Get out your needle and thread, glue gun, fabric, beads and paint. Creative Cups is back. See articles on Creative Cups.
April 2014
Article featured in Manhasset Magazine "A War Chest Against Breast Cancer"
$3 million and countless good deeds later, the Manhasset Women's Coalition Against Breast Cancer fights on. Read the full article.
February 2014
Article featured in the New York Times "When Men Get Breast Cancer." This is a provocative new photography series featuring the faces, and scars, of men with breast cancer. Read the full NYT article.
October 2013
True Love After Breast Cancer: Theresa Back-Huggett never imagined she'd be dealing with breast cancer at age 26. Now happily married, she talks about her struggles dating with breast cancer. Read the article from Everyday Health.
Things Are Looking Pink at Adelphi University. The Long Island Business News profiled our campus-wide breast cancer awareness campaign, which is the first of its kind for a major university. Read the LIBN article.
September 2013
Cancer Survivor Gives Back. Read about Adelphi Breast Cancer Hotline volunteer Narges Rothermel.
Westbury Cancer Survivors Give Back. Grateful Westbury residents volunteer with Adelphi Breast Cancer Hotline.
August 2013
The importance of screening and early detection for breast cancer may seem well known. But according to the Centers for Disease Control and Prevention (CDC) not everyone has heeded the message and breast cancer is a primary cancer killer of Latino women. Angelica and Naomi, breast health educators from the Sisters United in Health/Hermanas Unidas en la Salud initiative collaborated with the Hispanic Access Foundation to provide breast health workshops in New York to educate about prevention and early detection of breast cancer.  Read more.
July 2013
Gene's Family Legacy . Newsday posted an article about BRCA mutations.
Delthia Ricks, Newsday 7/8/2013
June 2013
Click here to read an article posted online at USA Today.com.
Gene flaws common in black women with breast cancer
Marilynn Marchione, Associated Press 6/3/2013
Click here to read an article printed in Science Daily
Single Dose Radiation at Time of Surgery Helps Women With Early
Stage Breast Cancer Forego 6-7 Week Radiation Regimen
Science Daily, 7/5/2012
Click here to read the story of two women, great food and good deeds.
A Big Serving Of Southern Fried Goodness
Long Island Weekly, Anton Community Newspapers, 6/26/2013 – 7/2/2013
May 2013
Click here to read
Fighting With Their Feet
Cousins battle breast cancer with fund-raising walks.
Printed in the Anton Community Newspaper 5/3/2013
Click here to read
AG Shuts Down Major Professional Fundraiser
Printed in New York Nonprofit Press, 5/6/2013