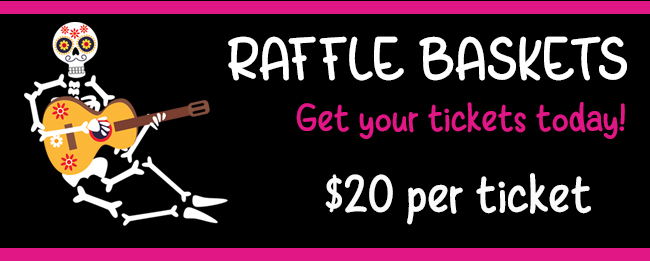 You do not need to attend our Drive-in Movie event to participate in the raffles. We will be hosting a live drawing on October 28, 2021 on Zoom.
All raffle ticket sales and payments must be received by 4 pm on October 25, 2021.
---
BASKET #1
"FUR BABY FUN"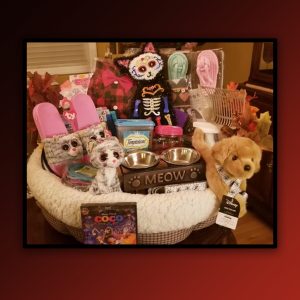 DESCRIPTION
Gift Basket for Pet Owners and their Adorable Fur Babies.
A bark-tastic and pawsome gift basket of pet friendly items for "Fur Baby Fun".
All pet owners will love to win this basket of goodies for Fido and Fluffy.
Contents:
Plush Pet Bed for Dogs and Cats – keep pets warm and comfortable.  27 in. x 27 in. x 9 in.
Love's Cabin Round Donut Cat and Dog Cushion Bed – 20 in. for Cats and Small Dogs
Cochin Cat Scratcher Cardboard Cat Scratch Pad with Premium Scratch Textures Design (Reversible)
Disney by Chewy Mickey Dog Collar (Medium)
Disney by Chewy Mickey Dog Leash (Large)
Chewy Star Wars Galactic Empire Tennis Ball Dog Toy – (3 count)
PALSWOW – Fun Decoy Sandal – Natural Cotton Rope (Save your shoes Pet Chew Toy)
Old Mother Hubbard All Natural Oven- Baked Classic Mini Dog Biscuits – Extra Tasty
Temptations – Jumbo Stuff Cat Treats. Tempting Tuna Flavor
Frisco Silicone Collapsible Travel Bowl Set – 3 count
Frisco Dog Bags and Dispenser. Scented. Bags 9×13
Frisco Scented Poop Bags. 120 count
AKC – Oxy- Tough Pet Stain and Odor Destroyer (Tropical Citrus)
Greenbrier Litter Scoop
Pet Biscuits Storage Container
WC Cooper Cat Meow Dinner Dish
Picture Frames – Cat and Dog. 1 of each
Pet Dog Long Sweater – Grey and Pink Hearts (small)
Grindoor 2 Pack Plaid Puppy Shirt with Bow
Douglas The Cuddle Toy (golden retriever)
Kiki-The Beanie Boo's Collection
Kiki slippers – The Beanie Boo's Collection
DVD – Disney – Pixar's  " Coco"
Added Bonus of Treats – Halloween Goody Box for Cats


---
BASKET #2

"SOMETHING SPECIAL"


DESCRIPTION
Treat yourself to
"Something Special".
This gift basket has it all: Shopping, Music, Food and Decor.
Contents:
Athleta – dry fit – workout shirt (momentum top – size M)
Athleta – $150 gift card
COCO – decor (frame, door decor, decorative cat)
COCO themed kitchen hand towels
Desk Clock with UV phone sanitizer
Wireless Bluetooth speaker
Skullcandy wireless headphones
Dunkin' Reusable Straws (4 pk)
Spiral Light Candle – Gingered Pumpkin
Stella & Dot Earrings
$50 Stew Leonards Gift Card
$50 Adelphi Deli Gift Card
---
BASKET #3
"ALL THAT GLITTERS"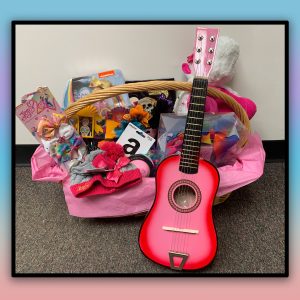 DESCRIPTION
Kids will love the "All That Glitters " gift basket. Chock-full of JoJo Siwi swag, a kids acoustic guitar, COCO themed items, an amazon gift card and more.
Contents:
Kids Pink Acoustic Guitar
JoJo Siwa Doll
JoJo Siwa Headphones
JoJo Siwa 7-Day bow set
JoJo Siwa Lip Gloss Pom Pom Key Chain
JoJo Siwa Cupcake Flavored, iridescent lip gloss
JoJo Siwa Insulated cup/glass
JoJo Siwa hat and matching gloves set
JoJo Siwa, Unicorn Pillow Pet Rainbow
COCO – Movie DVD
COCO – Beach Towel
COCO – Shadowbox Photo Frame
$50 Amazon Gift Card
SpongeBob's Best Face Ever Facial Mask
Patrick's Spa Day Face Mask
Unicorn Bath Bomb
Flower headband
Cotton Candy (FIZZ) Bath Bomb
Danielle Nicole Clutch Purse (Angelica from Rugrats edition)
Cream-colored Pashmina Wrap