How to setup a Facebook Fundraiser to benefit the Adelphi Breast Cancer Program!
Did you know that you can host a fundraiser through your Facebook page to benefit our program?
All funds raised through Facebook go directly to our program.
Ideas for Facebook Fundraisers:
Birthday's, Anniversary's, Holiday Gifts, Runs, Bike Rides, Walks, Pink Ribbon, etc.
STEP 1
From your Facebook homepage, you will see FUNDRAISERS listed on the left gray panel.
Click on the word Fundraisers.


STEP 2
Click the button that says SELECT NONPROFIT.
Choose The Adelphi NY Statewide Breast Cancer Program from the list.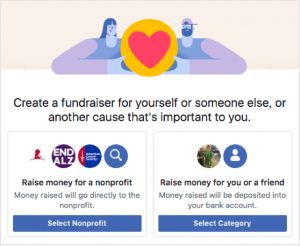 STEP 3
Choose The Adelphi Breast Cancer Program from the list.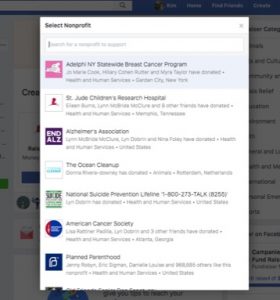 STEP 4
Follow the prompts and fill in the fields to create your own Facebook Fundraiser to benefit our program. 
Who are you raising $ for?
How much do you want to raise?
When should the fundraiser end?
STEP 5
You will be prompted to tell your story. Give a title to your fundraiser.
Then, write a short paragraph about why you are raising money for this cause.
STEP 6
Facebook will then prompt you to pick a cover photo. You can pick any image that represents your fundraiser. ie: a pink ribbon.
We can also send you an image or logo to use.
STEP 7
Then hit CREATE.
Now you have created your fundraiser. Please encourage your friends and family to share the post.
Please share your fundraiser with the Adelphi Breast Cancer Program's Facebook page.