Meghan Kenny Halloran
1969 – 2000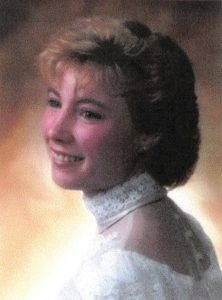 Meghan Kenny Halloran was born on April 2, 1969. She died of breast cancer on September 3, 2000. She was 31 years old.
Meghan's Pansies was created by her family and friends at the Adelphi NY Statewide Breast Cancer Hotline and Support Program where Meghan was a volunteer.
Here is what Meghan's parents, Larry and Monica Kenny of Garden City, tell us about their daughter:
"Meghan loved her collie Dusty, her birds and all flowers, but the pansy, most of all. Despite her illness, she never failed to smile when looking at a pansy. 
Meghan was very smart and she was a humanitarian. She was most comfortable in roles where she helped the downtrodden, whether they were human, animals or flowers. She always worked for a cause and she had a heart as big as all outdoors.
Even as a child she was accomplished. She played guitar, was a skilled sailor and, at age 12, her paintings were exhibited on Long Island and at the Kyoto, Japan, International Conference Center. At Garden City High School she was on the honor roll for all four years and received a Regents scholarship. She was a high jumper and ran the distance medley relay for the high school track and field team. Megan was an ambassador to Spain under the Garden City International Student Exchange. While in school, Meghan worked as a cashier at The Food Basket in Garden City and as a prep cook at the Beachwood Care in Southold.
Meghan went to Lehigh where she founded and was first president of Habitat for Humanity. She graduated in 1991 with a B.S. in Industrial Engineering with a computer science major. She worked as an engineer for UPS, JP Morgan and Time Inc.
After Meghan's breast cancer was diagnosed, she started volunteering at the Adelphi NY Statewide Breast Cancer Hotline and Support Program located in her hometown of Garden City. She helped as a computer troubleshooter and was most concerned about educating young women about breast cancer."
Meghan's Pansies was created to carry on Meghan's legacy. The Meghan's Pansies fund has supported the following:
Educational literature and distribution of thousands of copies of the video, Teens Talk about Breast Cancer to schools and youth groups.
Educational forums.
Providing support groups for young women.
Outreach efforts to young women in our communities and to school programs.
The Meghan's Pansies garden outside the Adelphi School of Social Work building.
To make a donation to Meghan's Pansies, please download, print, and complete our donation form, and send it along with your check to:
The Adelphi NY Statewide Breast Cancer Hotline & Support Program
c/o Office of University Advancement
1 South Avenue
P.O. Box 701
Garden City, NY 11530-0701
*In the notes section of your check please write Meghan's Pansies.