Breast Cancer Hotline: 800.877.8077
The Adelphi Breast Cancer Program is here to help, listen and support you and your family. If you or someone you love has been diagnosed with breast cancer, is experiencing difficulty navigating the health system, looking for vital community resources, or want to talk, please call us at: 1.800.877.8077. Our licensed Social Workers, and trained volunteers are here to help you cope and are available 365 days a year. Calls to the hotline are answered in both English and Spanish. Support is a call or click away.
We have the oldest breast cancer hotline in the country staffed by professionally trained and supervised volunteers who are breast cancer survivors. Our volunteers have "been there" and are ready to offer information regarding mammography screening referrals, treatment, support services and survivorship resources. We offer a Peer to Peer program, which matches individuals to survivors with similar diagnoses and treatment. Our volunteers and community educators are available at no cost to provide breast health education at community events such as meetings at places of worship, health fairs, libraries, and other forums. Volunteers are here to provide ongoing support throughout your journey, and work closely with our Social Workers to best address your needs. All of our services are completely free and confidential.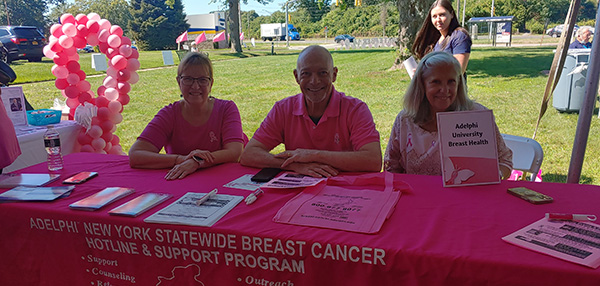 For more information about the Hotline, Peer to Peer Program and Community Outreach, please contact:
Nina Ehrlich-Foley
Hotline/Volunteer Coordinator
p – 516-877-4315