Donate to the Adelphi NY Statewide Breast Cancer Hotline & Support Program
Help support our program. Your contributions are essential.
DOnate online
Since 1980, the Adelphi NY Statewide Breast Cancer Hotline & Support Program has proudly helped women, men and their families in their darkest moments, when cancer turned their world upside down. Our program educates, supports, empowers and advocates for breast cancer patients, professionals and the community and now, more than ever, we need your help. 
COVID-19 has changed our entire way of life and it's financial impact is tremendous. Since April, we have lost over 40% of our program's funding and the financial loss has been devastating. As a statewide, not-for-profit organization that provides free, bilingual, professional support and public health services to those affected by breast cancer, our program relies on private grants and donations in order to survive. Without funding, our program will no longer be able to provide life-saving services to those who are truly in need. Please make a
tax-deductible donation today, so that we may be there for the breast cancer community.
Donations can be made online using a credit card.
Donations can be one-time or recurring to be charged on the 15th of every month. 
Reasons to donate
in honor of a friend or a loved one
in memory of a friend or a loved one
to celebrate a birthday or life event
Once your donation is received, we will send the card below to the honoree or family acknowledging your gift.
---
To personalize a response card for In Honor or In Memory of Gifts, please contact:
Breast Cancer Hotline and Support Program
Michelle Lamberson, Administrative Assistant 
p – 516.877.4320
e – mlamberson@adelphi.edu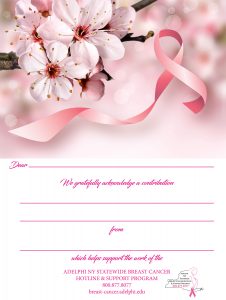 Donate By Mail
Please download, print, and complete our donation form, and send it along with your check to:
The Adelphi NY Statewide Breast Cancer Hotline & Support Program
c/o Office of University Advancement
1 South Avenue
P.O. Box 701
Garden City, NY 11530-0701
The
CARES Act
has been extended and allows all taxpayers – whether or not you itemize – to take a charitable deduction of up to $300 and $600 for married joint-filing couples in 2021. Imagine the difference your gift will make to someone coping with breast cancer. 
For more information, visit http://plannedgiving/.adelphi.edu/cares-act. 
Adelphi University is a qualified 501(c) (3) tax-exempt organization and donations are tax-deductible to the full extent of the law.