Support Groups for Breast Cancer
---
Breast cancer can cause many feelings to emerge, such as shock, confusion, fear, sadness anger and uncertainty. Our support groups provide the opportunity for participants to share their feelings and experiences under the guidance of social workers and social work interns.
The Adelphi NY Statewide Breast Cancer Hotline & Support program offers new and on-going support groups on a weekly and monthly basis.
To participate in one of the listed support groups please call our Counseling and Education coordinator,
Erin Nau (516.877.4314) to pre-register. Pre-registration is required.
Time-Limited, Topic-Focused, Psychoeducational
Breast Cancer Groups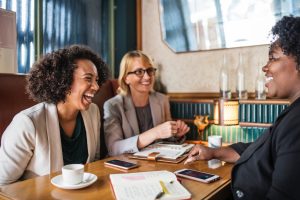 We are proud to present our new 4-week, time-limited, topic-focused, psychoeducational groups.
Our groups will dig into some of the topics that are frequently brought up by patients and survivors. Throughout 4 consecutive weeks we will review topics (such as sex and intimacy, nutrition, talking to your children, men with breast cancer, etc.) and support one another while they are discussed.
The groups meet for 90 minutes. Participants will focus on a specific topic each week.
Please click here to take a short survey. Your answers will help us determine topics for our next time-limited, topic-focused, psychoeducational groups.
---
Each group will accommodate only 10 members. You must register to attend the group.
All members must commit to attending the entire 4-week session.
Each session will be facilitated by a social worker. All groups are free but registration is required.
For information, questions, and to register for a session, call Erin Nau, Counseling and Education Coordinator, at (516) 877-4314.
Groups will meet at Adelphi University School of Social Work.
On-Going Breast Cancer Support Groups
WEEKLY GROUPS:
General Support Group
Mondays (6:00 – 7:30 p.m.)
Women who are recently diagnosed with breast cancer will have the opportunity to meet with others in similar situations.
 
Support Group for Friends and Family of People Diagnosed with Breast Cancer
Mondays (6:00 – 7:30 p.m.)
Breast cancer can bring up various emotions and concerns for everyone in the lives of those diagnosed. This group is designed to address those needs. Any person who is experiencing stress and anxiety related to their loved ones breast cancer diagnosis or who wants the opportunity to talk with others in a similar situation should attend.
Online, Young Women's Support Group, Under 40
Wednesdays (6:00 – 7:30 p.m.)
Women under the age of 40 who are diagnosed with breast cancer have particular needs. This support group will focus on those concerns while allowing the members to share their feelings in a safe supportive environment.
This support group meets online.
BI-WEEKLY GROUP:
Support Group for Stage 4 Breast Cancer
Thursdays (6:30 – 8:00 p.m.)
Meet with other women who are diagnosed with Stage 4/Metastatic Breast Cancer.
Touchstone: Book Club
Last Monday of the Month (6:00 p.m.–7:30 p.m.)
This group is for any breast cancer survivor who has received their last treatment more than 18 months ago. The group will meet monthly to discuss a book that focuses on cancer and coping. Discussing a book with characters on similar journeys can elicit empathetic conversations about our own journeys, and connect us to other survivors. 
Click here to see the book schedule.
GROUP FOR LATINA WOMEN:
Cafecito – On-Going Breast Cancer Support Group for Latina Women. 
Twice Monthly (516) 877-4329
DATES: 
Thursday, December 5, 2019 (9:30 a.m. – 11:00 a.m.)
Thursday, December 19, 2019 (9:30 a.m. – 11:00 a.m.)
Cafecito is a support group for Spanish speaking women facing breast cancer.
You must pre-register to attend.
Meetings are held in Westbury, NY. Please call Angela Papalia for location information. (516) 877-4329.
For information, questions, or to join the Cafecito support group, contact
Angela M. Papalia, LMSW, Assistant Director at 516.877.4329 or apapalia@adelphi.edu
All groups meet at the Adelphi School of Social Work in Garden City (except the Cafecito Support Group).
There is no charge to attend.
Pre-registration is required.
These groups and others are offered upon request.
Additional groups can also be offered off-site, in the community.
For information, questions, or to register for a support group, call the Hotline at 800.877.8077 or Erin Nau, LCSW, Counseling/Education Coordinator, at 516.877.4314.
All services are free and confidential. 
Call our hotline at 800.877.8077 for answers to your questions and concerns about breast cancer.
These groups are provided by the Adelphi NY Statewide Breast Cancer Program and supported by grants from the Alpern Family Foundation and the NYS Department of Health.
All groups are facilitated by a social worker or master level social work intern.